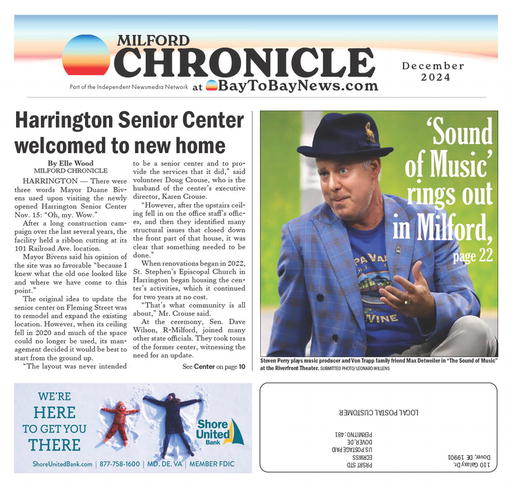 Located in Milford, the sixth largest city in Delaware, the Milford Chronicle is published every Wednesday, with free home delivery. Single copies are sold at local retail outlets.
Approximately 20,000 people live within a 5-mile radius of the city. The population is primarily between 18-64, but the percentage of retirees has increased significantly in the last few years. Milford is within 100 miles of Washington, D.C., Philadelphia and Baltimore and only a short 25 minute drive to the Delaware beaches.
Since 1848, 11 different weekly publications have been published in Milford, but only the Chronicle, founded in 1878, has survived. The Milford Chronicle's distribution area includes not only Milford proper, but the surrounding communities of Ellendale, Felton, Frederica, Greenwood, Lincoln and Milton.
Advertising
Classified Advertising: FREE online classifieds. No limit on the number of ads. Up to 400 words and four photos free. Many options to upgrade your ad or publish in print. You can submit your ad online or send email to our classified team for more information.
Display advertising: Send email to our sales team or our billing team, or view our online media kit for information about the Milford Chronicle and other Independent Newsmedia Inc. publications in the Delmarva area.
Archives
The Milford Chronicle's online archive contains staff-written and other selected articles from 2007 to the present. Searches are free. You may purchase individual articles for $2.95 or select a package for multiple articles.